A wedding, tailored to you
Pfrofessional Wedding planning
Boring looks make you yawn, organza decorations give you the creeps and you want to run away from the same same? Don't be afraid, I'll help you to put together your very special day!
A great wedding never comes without a good structure. As a professional wedding planner, I take on this task, fill the structure with life, people and schedules and make it possible for you to have the wedding you ever dreamed of.
You want to enjoy your wedding and the planning time and avoid stress? I will gladly help you with that!
I am the good fairy in the background, the best friend or sometimes the general who commands the troops. Depending on what is necessary.
I love individual weddings
Organizing is part of my DNA and helps me to make my couples happy and release the stress.
To me, wedding planning is more than just organizing, it is about creative ideas, a feeling for the needs of my couples, the attention to details and to make people feel warm and welcome.
Together we create your unique and personal wedding!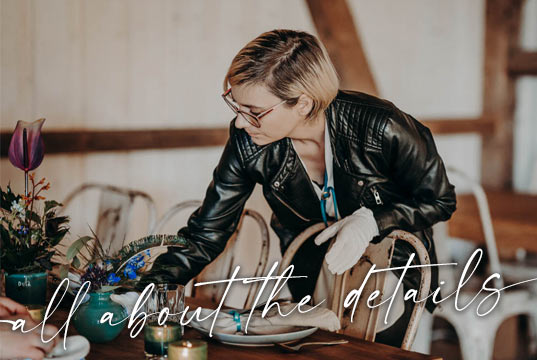 Before my professional training as a wedding planner, I was able to work as a graphic designer and learn to see the bigger picture and especially that it is all about the details to make your wedding day a highlight!
That's why I use my experience in creating loving and unusual concepts and plan your big day with you. If you like me and my handpicked vendors are on your side.
If you want to make your wedding a special and personal event, I am happy to meet you or see you at skype for a first impression.